ADVENTURES
SURFING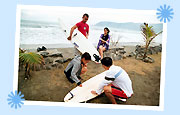 Aurora is a paradise for surfers, with its long coastline exposed to the Pacific Ocean. The sport was made famous in the Province by the classic film Apocalypse Now. The scene in which U.S. soldiers are surfing was filmed here, and the production crew left behind surfboards for the locals to use. The locals of Baler claim that the surf is sometimes so huge that they could hear it all the way from the provincial capitol building, some 1.5 km away from the coast.

Surfing Areas
There are numerous surfing points in Aurora, but the municipality of Baler offers most of the more accessible surfing areas with good accommodations.
Baler is also home to the country's largest Filipino surfing community, numbering about 50, although there are only some 20 surfboards in the entire town. The local surfers are always friendly and hospitable to visiting surfers, and it pays to learn from their experience with the waves in the area.
Here's a run-down of great places to surf around Baler:
Sabang Beach

Glassy right and left waves in the early mornings. Fun waves-not usually big, except during typhoons. A good site for beginning and novice surfers. The MIA Surf & Sports Resort, located by the beach, offers surfing lessons and rents out surfing, windsurfing and snorkeling equipment. They also offer tours to the best surfing, snorkeling and diving areas. More info...

Cemento Beach

To the south of an old cement pier is a reef break just off a large rock. The area produces excellent quality right breakwaves over sharp reefs. It is one of the spots most frequented by Australian, European and Japanese surfers in Aurora. The sight is recommended mainly for experienced or professional surfers. Surfers are advised to wear wetsuits. Cemento Beach is usually the site of the finals for the Annual Aurora Surfing Cup. Spectators have to traverse a swamp to reach two huge rocks that provide a splendid view of surfing action. More info...

Famous for being the setting for the surfing scenes in Francis Ford Coppola's film, Apocalypse Now, Charlie's Point is known for medium-quality right and left breakwaves on sand/gravel bottom. The waves are best from December to January. The place is within walking distance from Baler town proper, north of Sabang Beach.

Further North of Sabang Beach, Lindy's Point is a newly discovered surfing spot. The place is within 15-minute walking distance from Bay's Inn.

The tall waves were "artificially" created when local government engineers opened the mouth of Baler Bay to the town river to prevent floods during the rainy seasons. The clashing waters coming from the river and the Pacific form strong, sharp breakwaves that provide an exhilarating high among experienced surfers.