Office of the Governor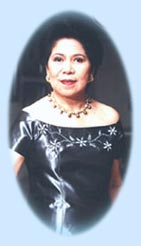 The Hon. Bellaflor J. Angara-Castillo is the Governor of the Province of Aurora. She was the first and only woman in Philippine history to become House Majority Floor Leader.
The Hon. Angara-Castillo has the distinction of having enacted the greatest number of national bills into laws and resolutions among neophyte lawmakers and Sectoral Representatives during the 10th Congress. Many of these laws were a great benefit to the people, especially to her constituents in Aurora.
Among her most significant acts include the National Cave Resources Protections Act and the National Tourism Policy. Her genuine concern for the social welfare of Filipinos is evident in her bills on the magna carta for women, early childhood, and the controversial lesbian and gay rights.
As the esteemed governor says, "I've always wanted to give my 'kababayans' the good life we all wanted to have. Undoubtedly, the majority of them are poor, but with their strong-willed determination to move on and better their lives, it makes it easier for me to do my job. They've been there from the start, and I will make true of my promises."