Infrastructure Profile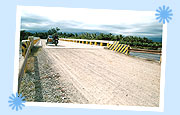 Aurora is traversed by a total road network of 1,287.8 kilometers. Most of these roads (75%) are gravel-surfaced. Earth-surfaced roads comprise almost 14%, while 10% are concrete. Asphalt roads comprise only 1% of the total road network.
During the rainy and monsoon season, the gravel and earth roads are very difficult to pass. Some of these unsurfaced road sections cover mountainous terrain. These sections are prone to landslides, especially during the rainy season.
Most of the roads lack ditches and adequate drainage systems, resulting in the accumulation of water on the roadway and the accompanying soil erosion of some embankments.
The coastal road sections located along the Baler-Casiguran Road are naturally surfaced with fine sand which, when dry, are difficult for small vehicles to pass through.
Port Network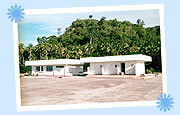 There are six ports in Aurora. Four are municipal ports and are located in Baler and Casiguran. Two are private ports used for travel to and from Dilasag and Baler during the rainy season when parts of the Baler-Casiguran Road are unsafe for vehicular traffic.
Air Transport System
There are four feeder airports in the province. Two are private landing strips, one is a private airstrip, and one is an airfield. The airfield, now called the Dr. Juan C. Angara Airport, has a concrete runway that measures 875 x 30 meters. It is located at Barangay San Isidro, San Luis, some seven kilometers from the capital town of Baler.
South East Asian Airlines (SEAir) flies from the Manila Domestic Airport to the Dr. Juan C. Angara Airport twice a week.
Water Supply
Pumps comprise the most common water supply systems used by households, accounting for 91% of the 9,209 total water facilities.
Households in Baler do not have much difficulty accessing the water supply, since all types of facilities are available. The households in Casiguran and Dipaculao have the most constraints in obtaining water.